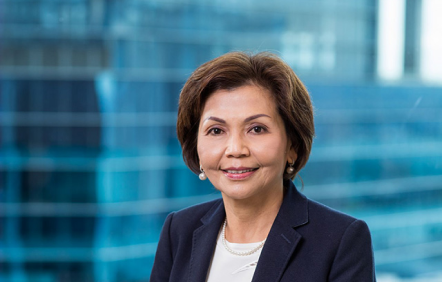 summary
Pavilion Energy Trading & Supply
Pavilion Energy Spain
Ms Lee Ching is a Director of Pavilion Energy Trading & Supply and Pavilion Energy Spain. She began her career in Office Administration and Human Resource Development at Petroliam Nasional Berhad (PETRONAS), Malaysia's National Oil Company.

She was then granted a graduate scholarship by PETRONAS to pursue an MBA degree at the University of Malaya in 1983. Upon graduating in 1985, she resumed service with PETRONAS's Human Resource Management and Development division for the PETRONAS Holding Company.

From 1990 to 1992, Ms Lee served full time on the Secretariat of the National Organising Committee for the LNG 10 International Conference, a global triennial event hosted by PETRONAS in Kuala Lumpur in 1992. She was then promoted to head up the Human Resource Management and Administration Department of PERMATA, a training institute wholly owned and operated by PETRONAS from 1993 to 1994.

In 1995, Ms Lee was posted to PETRONAS's Corporate Planning Division where she was involved in the setting up of a number of PETRONAS Country Offices overseas. She was also involved in Strategic Investment Analysis and Project Evaluation, focusing on LPG and retail business development projects in China, Thailand and Australia.
In 1999, Ms Lee was promoted to Deputy General Manager, Sales and Marketing for Malaysia LNG Sdn Bhd (MLNG), where she was responsible for managing long term LNG contracts with buyers from Japan, Korea and Taiwan for MLNG Satu and MLNG Dua Projects. In 2001, she led the Sale and Purchase (SPA) negotiation for a 20-year contract extension between MLNG and Tokyo Electric/Tokyo Gas of Japan.

In July 2003, Ms Lee was promoted to General Manager, Sales and Marketing for MLNG Tiga, where she was instrumental in clinching a number of short and medium term contracts with buyers from Japan and Korea for the MLNG Tiga project. She was then appointed as General Manager of Marketing and Trading for Japan and the US West Coast following the restructuring of the marketing organisation in the MLNG Group of Companies in 2006.

In 2007, Ms Lee was promoted to Senior General Manager, Commercial Division of MLNG with the following principal accountabilities: Driving the formulation of the Company's annual global LNG marketing and trading strategies and plans, as well as providing oversight and control over the implementation of those plans and strategies.

Ms Lee graduated from the University of Malaya with a Bachelor of Economics (Hons) in 1978.