Pavilion Energy Partners with Japan's Asuene to Promote Decarbonization Solutions
Singapore, 2 May 2023 – Pavilion Energy, Singapore-based global energy merchant, has announced a partnership with Asuene Inc., a leading climate tech company in Japan to support and facilitate energy transition in Singapore and Japan through trading of carbon offsets. The partnership with Asuene was signed under an agreement with Pavilion Energy's subsidiary, Pavilion Energy Trading & Supply Pte Ltd. The first voluntary carbon trade between the two companies has contributed to the conservation of native forest ecosystems in South America, through supporting local efforts and activities that combat deforestation.
Pavilion Energy's partnership with Asuene's Asuzero Singapore, its first overseas subsidiary, aims to contribute to the global decarbonization effort by enabling the trading of carbon offsets between Pavilion Energy and Asuene's Asuzero customers. Asuzero is a cloud-based climate platform that measures, reports, and reduces carbon emissions for enterprises, enabling companies to visualize and reduce their carbon dioxide emissions in a one-stop shop.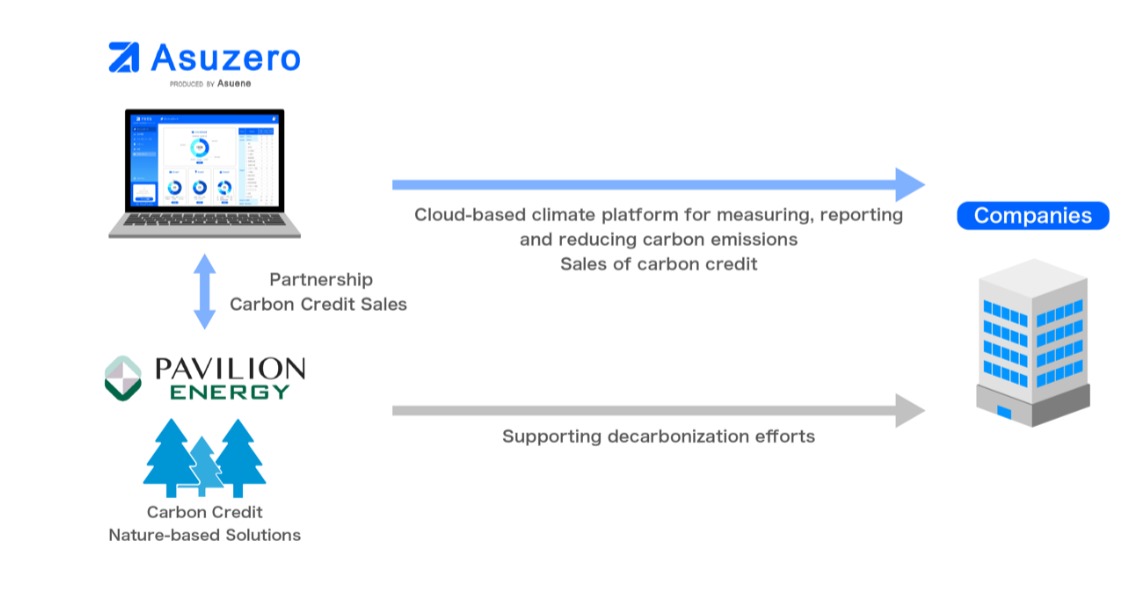 Mr. Ong Seng Leong, Head of Energy Financial Solutions and Environmental Solutions from Pavilion Energy, said, "We believe in utilizing market-based instruments to drive climate action. One of our approaches is in financing high impact carbon projects that deliver verified emission reductions and local sustainable development opportunities. The carbon offsets can form part of the strategy deployed by our corporate customers to accomplish decarbonization goals. Our strategic partnership with Asuene represents a significant milestone for the company and is a reflection of the growing demand of carbon offsets."
Commenting on the partnership, Country Manager of Asuzero Singapore, Masaaki Hamada said, We are excited to collaborate with Pavilion Energy to advance net-zero initiatives and promote sustainable business practices between Japan and Singapore. This partnership will enable Asuzero customers to manage the carbon offsets they have purchased through our system, making it possible to visualize and reduce their CO2 emissions while supporting compensation of unavoidable emissions.
Through this partnership, Pavilion Energy's Environmental Solutions team will leverage its portfolio of high-quality carbon offsets and trading capacity to offer bespoke carbon offsetting and risk management solutions that complement Asuzero's customers' needs. The company also recently launched its inaugural sustainability report in March to detail its energy transition journey.
Pavilion Energy's partnership with Asuene is aligned with Singapore's and Japan's commitment to achieve net zero targets. In Singapore, the Green Plan 2030, formulated in 2021, sets out comprehensive environmental policies, such as carbon dioxide emission reduction targets and the promotion of green finance. The Singapore Exchange (SGX) also intends to progressively make it a requirement for listed companies to make climate change-related disclosures under the TCFD (Task force on Climate-related Financial Disclosures) from 2023 onwards. Japan is placing increasing emphasis on ESG initiatives, where all listed companies are required to disclose sustainability information in their annual reports from FY2023, including human capital and diversity-related disclosures.