Pavilion Energy and CNOOC Completes First Ship-to-Ship LNG Bunkering Operation to Maran Tankers Management's New Built VLCC Maran Dione in China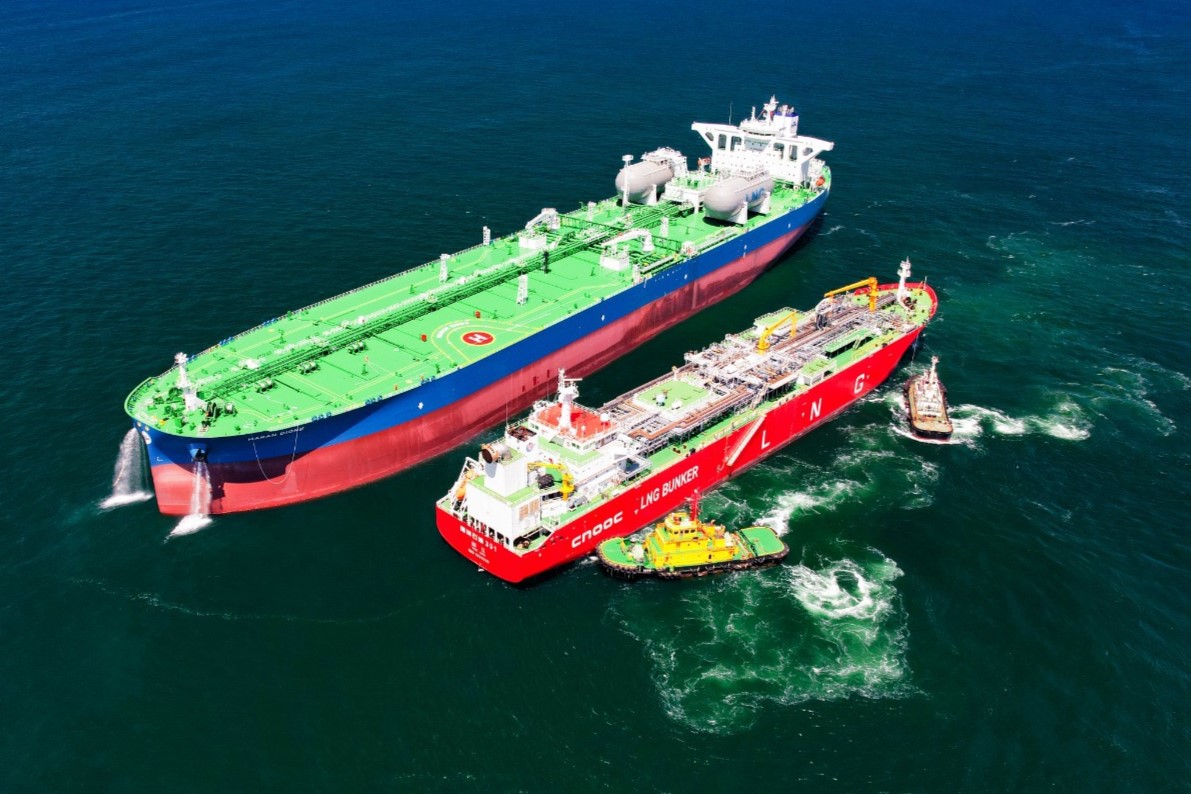 Singapore, 10 August 2023 - Pavilion Energy and CNOOC Gas and Power Group have successfully concluded their inaugural Ship-to-Ship (STS) LNG bunkering operation to Maran Dione, Maran Tankers Management (MTM)'s new-built dual-fuel (DF) very large crude carrier (VLCC), in China. MTM, the oil tanker shipping arm of the Angelicoussis Group, recently welcomed this vessel as the fourth and newest DF VLCC in its fleet.
The VLCC received approximately 2,800 Metric Tons (MT) of LNG from CNOOC's LBV "Hai Yang Shi You 301" at the Guangzhou Port.
This latest bunkering operation marks a milestone for both Pavilion Energy and CNOOC, after both parties signed a Heads of Agreement in November last year together with another partner, Gasum, to strengthen the global LNG bunker supply network for customers. It marks Pavilion Energy's first foray in supplying LNG bunkering solutions overseas and underscores its LNG bunkering capability and readiness to offer similar services to various global ports through its partner networks. It is also CNOOC's first delivery to an LNG-powered VLCC at an anchorage in Chinese waters.
More significantly, the success of this operation potentially opens doors for more bulk carriers and product tankers to conduct LNG bunkering operations at the anchorage in Chinese ports.
Mr. Alan Heng, Group CEO of Pavilion Energy, said, "Pavilion Energy is pleased to have CNOOC as a strong and capable partner to support Angelicoussis Group in their adoption of LNG as a cleaner fuel of choice for its vessels. This latest operation further solidifies our presence as a one-stop LNG bunkering solutions partner to serve various global shipping ports as we continue to expand our global LNG bunkering footprint and support the shipping industry's transition to cleaner marine fuels." 
CNOOC's strong partnership with the local authorities served as a strong foundation for this VLCC bunkering operation, which also demands high safety standards. While they have successfully established international vessel bunker centres in Shenzhen, Ningbo, and Guangzhou, they are also expediting the development of an LNG bunker fleet and have plans to further expand the bunker network along China's coastal regions.
Mr. Mark Pearson, Managing Director of Maran Tankers, said, "Angelicoussis Group is committed to sustainability and engages in cross-industry collaborations, with the aim of transitioning to zero-carbon operations. We are delighted to be part of this pioneering moment for China with two solid partners in the energy sector, CNOOC and Pavilion Energy, and actively contribute to the decarbonisation of our fleet. As part of our efforts on energy efficiency, we also continue our ambitious fleet renewal programme, with 8 DF Suezmaxes currently on order, in addition to the 4 DF VLCCs we received this year."
MTM took delivery of the LNG-powered Maran Dione on 27 July and this newest addition to its DF VLCC fleet emits 50% less carbon dioxide than an equivalent 2008-built VLCC, making her one of the four most environmentally friendly VLCCs in the world (all operated by MTM, part of the Angelicoussis Group).