5th LNG Producer-Consumer Conference: Session Keynote Speech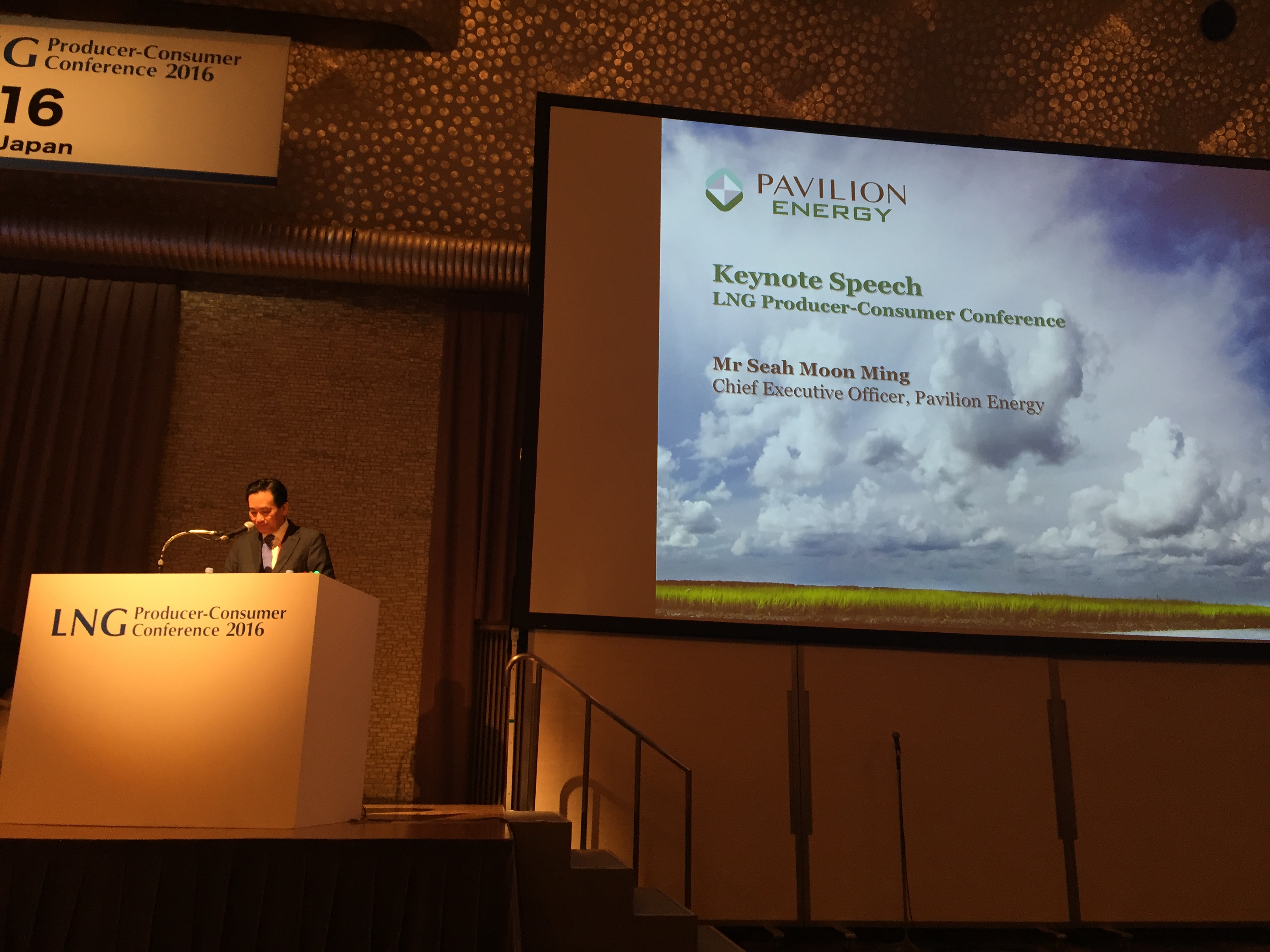 Session Keynote Speech at the 5th LNG Producer-Consumer Conference by Mr Seah Moon Ming, Group Chief Executive Officer, Pavilion Energy Pte Ltd.
Your Excellencies, distinguished guests, ladies and gentlemen,
A very good afternoon to you.
The Singapore Government announced the appointment of Pavilion Energy Singapore (formerly Pavilion Gas) as one of Singapore's next LNG importers last month. Before I start my speech, I would like to take this opportunity to thank all friends and partners in Japan, including Mitsubishi Corporation, Marubeni and Mitsui for their support. Pavilion Energy is excited to provide competitive and reliable gas supply to our customers in Singapore and the region. Thank you very much.
We are all gathered here today because we believe in the potential of LNG. We believe that Asia has fast growing energy needs, with LNG set to play a pivotal role for many years to come.
In today's low-price and over supply environment, there are three opportunities that can be unlocked. These opportunities have the potential to support growth in LNG demand and provide a sustainable LNG future:
Firstly, creating new and alternative markets for LNG;
Secondly, greater cooperation in the region for LNG trades; and
Thirdly, developing LNG ecosystems to fully realise the potential of LNG.
Creating new and alternative markets for LNG
While the spotlight has been on growing Asian demand, we need to look beyond traditional LNG spaces – to emerging new gas markets.
The persistently low oil price in the last 2 years has somewhat dampened or delayed the role of gas in driving cleaner transportation around the world. The recent ruling by the International Maritime Organisation (or IMO) to impose a sulphur cap of 0.5% (from the current 3.5% global limit) on fuel oil starting 2020, is a timely reminder of the potentially high demand for gas in fueling ships. Together with the increased use of gas in trucking, we are looking at new LNG demand of 50 Mtpa being created by 2020, growing to reach 100 Mtpa by 2030, in the transportation sector.
At Pavilion Energy, we have secured a bunkering licence from the Maritime Port Authority of Singapore (or MPA) in January 2016, to deliver LNG to ships in the port of Singapore. We are now developing LNG bunker supply and delivery models, in partnership with various international players like ExxonMobil and numerous Japanese companies. I would like to mention that Pavilion Energy had signed a MOU with Harley Marine, Mitsui O.S.K. Lines and Mitsui & Co. to jointly participate in MPA's LNG bunkering pilot. Pavilion Energy will supply LNG bunkers to two dual-fuelled conventional bunker tankers that Harley Marine is going to build with S$4 million funding assistance from MPA. Pavilion Energy welcomes collaboration with Japanese partners to build a robust LNG bunkering ecosystem in Singapore, Japan and the region.
Another promising business is small-scale LNG in Southeast Asia. This region is home to many small, remote islands that require power. For Indonesia, the Government has made electrification a priority in a country where 250 million people live across 17,000 islands. LNG demand may be in small, scattered quantities, but collectively, they represent an alternative market for LNG demand growth. In August 2016, Pavilion Energy signed an MOU with Indonesia's Pertamina work closely on small-scale LNG projects. We believe with more regional collaboration, the market potential for small-scale LNG will be evident.
Let me now address the second area of opportunities – greater regional cooperation for LNG trades in Asia.
Greater Cooperation in the Region for LNG Trades in Asia
In 2012, the premium paid by Asian LNG buyers was valued at about $120 billion. Fortunately for the region, gas prices as a whole has come down in recent years. Today, Japan remains the world's leading LNG importer, a position it has held since the 1960s. Not surprisingly, Japan has ambitions to be an LNG trading hub for the region given the large number of LNG cargoes it transacts.
We envisage a scenario where LNG trade flows within Asia are supported by several hubs within the region. Singapore is already a leading trading hub in Asia for various global commodities, including oil, iron ore and rubber. In some commodities, we lead in total number of physical transshipments handled, while in others, in total volume of paper transactions. And we have developed the right infrastructure to support both well, in order to serve as a reliable commodities pricing hub.
In January 2016, the Singapore Exchange launched the SLInG index – an FOB Singapore LNG price. This index is widely accessible to interested subscribers and is backed by over 20 LNG players in Singapore that participate in price reporting. Feedback on the SLInG methodology has been positive, and in September this year, SGX introduced a second index – the "North Asia SLInG". The Singapore SLInG will continue to serve as a price reference point for the fast growing Southeast Asian LNG market; while the North Asia SLInG will provide a representative price for the traditional "JKTC" importers which account for 60% of world LNG demand. The two indices complement each other and together aim to create an Asian LNG Price framework.
Singapore is neither a significant LNG seller nor big buyer, making this price discovery platform comparatively neutral. The success of an Asian LNG hub framework will depend on the region's commitment in recognising the benefits of these hubs in price discovery. I am heartened by an announcement made earlier this week, that Singapore's SGX has signed an MOU with Japan's TOCOM to jointly develop the Asian NLG market and explore opportunities to co-list LNG derivatives. With such collaboration, in the near future, Asian LNG hubs can be a key benchmark for transparent and fair LNG pricing in the region.
On the third area of opportunities, let me suggest how the development of LNG ecosystems could realise the full potential of LNG.
Developing LNG ecosystems to fully realise LNG's potential
From 2013 to 2040, total energy demand in Southeast Asia will grow by 80%. Promoting the transition from traditional fossil fuels to gas not only protects the environment, giving our children many more years of fresh air and blue skies; but also creates sustainable value in the lives of our people. This will stimulate more investment into the LNG sector. There is a clear need to shift our thinking away from just supply-demand dynamics, but towards investing ahead for a clean and sustainable future. We can start by not thinking of emerging countries that are in need of energy as "demand centres" or "LNG sinks".
Our focus should instead be on developing LNG solutions including transportation, marine fuel and building LNG ecosystems. These ecosystems can be introduced into emerging markets as a turn-key solution for supplying LNG as well as generating and distributing electricity to emerging markets.
Take Myanmar as an example. While the country is keen to power its cities with LNG, it is facing teething challenges common to emerging markets. LNG value chain development is at its infancy and could take a long while to mature. Introducing an integrated LNG ecosystem would speed up the adoption of LNG and pave the way for sustainable development of clean energy solutions in the country.
Underpinning the success of such an ecosystem would be close regional cooperation involving stakeholders across governments and private sectors. Pavilion Energy welcomes such partnerships across these levels. LNG players – whether producer or consumer, all need to work together. Along with our partners in shipping, offshore and power generation solution providers, we can all help create a bright future for the industry.
Conclusion
In closing, let me share a Chinese proverb: 独木不成林, 单弦不成音. A single tree does not make a forest, just as a single musical note does not form a tune. We all need to work together to create and shape the LNG industry in Asia. The future for LNG remains bright with new and alternative LNG markets waiting to be unlocked and developed.
Thank you.
Note: As of 1 October 2019, Pavilion Gas has been renamed to Pavilion Energy Singapore.