Pavilion Energy Charters Its First LNG Bunker Vessel Newbuild for Singapore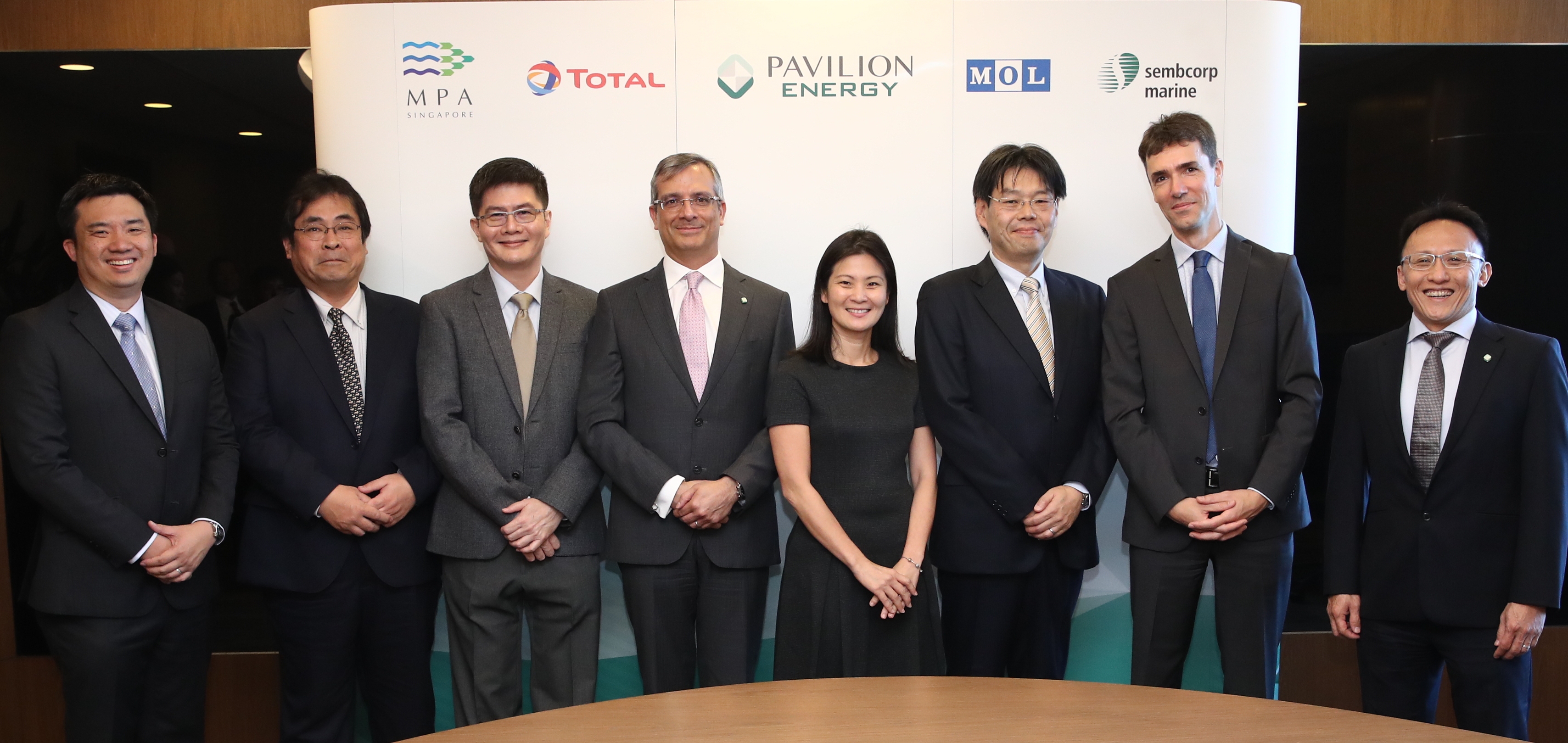 Above: "(from L to R) Mr Desmond Chong, GM of Sinanju; Mr Soichiro Kambe, Deputy GM of Mitsui; Mr Tan Heng Jack, Head of Specialised Shipbuilding of Sembcorp Marine; Mr Frédéric H. Barnaud, Group CEO of Pavilion Energy; Ms Quah Ley Hoon, Chief Executive of Maritime & Port Authority of Singapore; Mr Michihiko Nakano, GM of Bunker Business Office of MOL; Mr Jérôme Leprince-Ringuet, MD of Total Marine Fuels; and Mr Alan Heng, EVP of Pavilion Energy Singapore"
Pavilion Energy has chartered its first LNG bunker vessel to supply LNG bunkers in the Port of Singapore. The 12,000 m3 GTT Mark III Flex membrane LNG bunker vessel, which is the largest LNG bunker vessel set for use in the Port of Singapore to date, will be owned by Mitsui O.S.K. Lines, Ltd. (MOL). MOL will be collaborating with Sinanju, a local bunker tanker operator in Singapore, to manage this LNG bunker vessel.
The S$3 million grant which was awarded to Pavilion Energy under the Maritime and Port Authority of Singapore's (MPA) LNG Bunker Vessel Co-Funding Grant will go into the construction of this dual-fuel vessel. The vessel will be built by Sembcorp Marine at its shipyard in Singapore for delivery by early 2021. Featuring a state-of-the-art hull with twin membrane LNG cargo tanks for more efficient boil-off gas management, this vessel fulfills requirements as an LNG feeder and bunker tanker for both coastal and short sea trade.
"Pavilion Energy has made substantial headway that will see us supply a cleaner and more sustainable bunker fuel in the Port of Singapore. The strategic partnerships with Total and MOL reinforce our commitment to develop robust LNG bunker supply solutions in Singapore as our home base", said Mr. Frédéric H. Barnaud, Group CEO of Pavilion Energy, "We would like to express our appreciation to MPA and our partners for their strong support behind this important milestone to realise LNG as marine fuel in Singapore."
Ms Quah Ley Hoon, Chief Executive of MPA, said, "As the world's largest bunkering port, we are pleased to support the building of this LNG bunker vessel. We look forward to this collaboration catering to growing future demand for ship-to-ship LNG bunkering in the Port of Singapore."
As a licensed LNG bunker supplier in the Port of Singapore, Pavilion Energy plays a leading and active role in championing Singapore's development of a flourishing LNG bunkering ecosystem. In June 2018, Pavilion Energy and Total agreed to co-share the utilisation of this vessel and enable LNG bunker deliveries to both Pavilion Energy's and Total's marine fuel customers in the Port of Singapore.
LNG as a marine fuel has gained positive momentum as the global shipping industry looks to adapt to stricter emissions standards. To date, there are more than 140 LNG-powered vessels in operation with some 130 on order[1]. Traction in developing LNG bunkering infrastructure has consequently expanded with several leading ports having established key initiatives to support this development. Pavilion Energy is at the forefront of change for cleaner and more responsible solutions with LNG bunkering. With our proven capabilities and global partnerships, our customers can look forward to reliable and competitive LNG bunker logistics and supplies that are readily available in Singapore, regionally and globally.
1 https://www.maritime-executive.com/editorials/2019-will-be-the-year-of-acceleration-for-lng-as-marine-fuel